Man detained over grounded fishing vessel incident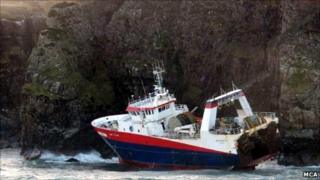 A man is to appear in court in connection with the grounding of a French fishing boat off the west coast of Scotland.
The 14-strong crew of the Jack Abry II were airlifted to safety in severe weather on Monday night after the vessel hit rocks on Rum.
Northern Constabulary confirmed a man was in custody in connection with the incident.
He is due to appear at Stornoway Sheriff Court on Wednesday.
Stornoway Coastguard received a distress call from the 46m (151ft) Jack Abry II shortly after 2330 GMT on Monday.
It was listing on to rocks on the Isle of Rum in force seven to eight winds and heavy seas.
Mallaig Lifeboat and the Rum Coastguard Rescue Team were scrambled but the weather was too severe to attempt a lifeboat rescue.
The coastguard helicopter arrived at 0100 GMT and winched all 14 crew off the vessel in about 55 minutes. They were taken to the Fishermen's Mission in Stornoway.
Skipper Xavier Leaute thanked the coastguard for rescuing him and his crew.
He said: "It was very difficult for the helicopter because there was a strong gale and because of the coast.
"With my crew, I say a thank you to the crew of the coastguard helicopter."
Stornoway Coastguard watch manager David Smith said: "This was a very successful rescue of all 14 crewmen in what could have been different circumstances due to the severe weather conditions on scene."