Collector chasing SS Polly and Whisky Galore relics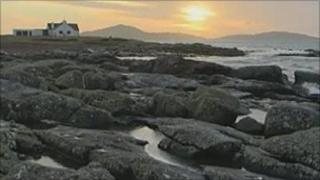 A businessman has spent the past 10 years on the trail of relics washed up or salvaged from the shipwreck that inspired Whisky Galore.
SS Politician, whose cargo included more than 250,000 bottles of whisky, ran aground off the island of Eriskay on 5 February 1941.
Keith Hewitt, who runs a business in Grangemouth, believes its story is now as famous as the Loch Ness Monster.
He now gives public talks on the famous shipwreck.
Author Compton MacKenzie used the grounding of the cargo ship as the basis of his book Whisky Galore in 1947 and an Ealing comedy followed in 1949.
Mr Hewitt, who runs Scotia Bearings, owns three bottles from the SS Polly, a cigarette lighter that may have belonged to the captain or a senior officer as well as items connected to the film.
He said: "I have the largest collection of Whisky Galore film posters in one place.
"I have 12 different editions from all over the world. The latest I bought was from someone in Arizona last week."
A long-time whisky collector, Mr Hewitt's fascination with the SS Politician started 10 years ago when he bought his first bottle of whisky from the ship.
It had been recovered by a diver and came with salvage reports and a history of the shipwreck from Customs and Excise point of view.
The businessman started researching the story of the SS Polly and, in turn, was captivated by Whisky Galore.
Mr Hewitt said: "There are still bottles of whisky being found.
"I was on Eriskay for its heritage museum's first Whisky Galore festival and an islander had found a bottle that had been washed up.
"It was sold to an American tourist.
"Artefacts from SS Politician are dispersed across the world.
"But items such as the ship's bell, its clock, telephones and some of the bicycles that were also in the cargo could still be on Eriskay, maybe even in sheds and outbuildings."
Later, Mr Hewitt is to give a presentation ahead of a screening of Whisky Galore at the Bo'ness Hippodrome.
He said: "Whisky Galore is one of those films that you always remember where you were the first time you saw it.
"I would say the film has helped to make the true story of the SS Politician as famous as Nessie."