Coastguard plan 'best there is' says Sir Alan Massey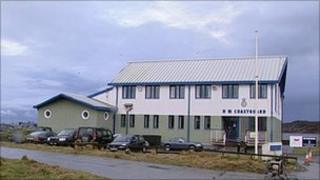 A plan to modernise the coastguard have been described as the "best there is" by the Maritime and Coastguard Agency's chief executive Sir Alan Massey.
But he added that bosses were open-minded about the future of closure-threatened stations in Stornoway, Lerwick, Belfast and Liverpool.
On a visit to Stornoway, Sir Alan said no decisions had been made on which of the four sites should shut.
Campaigners staged a protest during his meeting with coastguard staff.
Under UK government plans, 10 of the UK's 18 round-the-clock coastguard centres could close in an effort to reduce costs and modernise the service.
Five remaining sites will operate just during daylight, with the only 24-hour centres planned for Aberdeen, Dover and the Southampton/Portsmouth area.
The five daylight-only stations will be Swansea, Falmouth in Cornwall, Humber, either Belfast or Liverpool, and either Stornoway or Shetland.
Stornoway-based union representative Martin Collins had earlier said morale was low but this did not affect the workers' professionalism.
Sir Alan said service chiefs and the UK ministers had not made up their minds about closures.
He told BBC Alba: "What minds are made up on is that we had to put together a package that looked sensible, that really did modernise the coastguard, bringing it into the 21st century."
Reduce costs
Sir Alan said the plan put forward dealt with issues of inefficiency in the coastguard.
He said: "We thought it through. We did a lot of risk assessment.
"I believe it happens to be the best plan there is bearing in mind we still have the question of Stornoway or Shetland, Belfast or Liverpool.
"Of course that doesn't mean we have closed our minds and the whole process is designed to open this up to wider consultation."
Stornoway-based Mr Collins said staff at both Stornoway and Shetland were united in a campaign to stave off closures.
He said: "As far as morale is concerned in the stations themselves, obviously something like this drags morale down.
"The one positive that has come out of this is that at both stations the emphasis on the campaign has drawn all the staff together and are fighting for survival of their stations."
Mr Collins added: "The morale doesn't affect the responses to the public and the mariners that are out there."