Ambulance assurances given over Mandy Mathieson death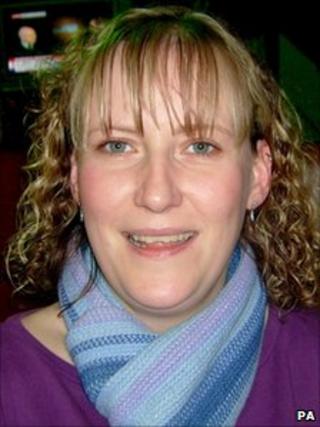 An ambulance worker who failed to respond to a 999 call in which a Moray woman died - because he was on a break - will never work in the area again.
The assurance was given by bosses at the Scottish Ambulance Service (SAS), who addressed the community where Mandy Mathieson had lived.
The 33-year-old died at her home in Tomintoul in October last year.
Although the ambulance technician did not lose his job, SAS bosses said he would not work in Tomintoul again.
Ms Mathieson collapsed at her home about 800 yards from the ambulance technician's depot.
However, he chose not to answer the call because he was on a meal break.
Instead, a crew based 21 minutes away in Granton-on-Spey responded.
An air ambulance was also scrambled, but Ms Mathieson died, having suffered a blood clot.
Ambulance chiefs went to Tomintoul in response to local concern about the issue and to express their regret at Ms Mathieson's death.
They have also given assurances that local crews have said they will respond during meal breaks.
'Distressing situation'
The SAS said it was also attempting to bring about a change in the rules surrounding meal breaks for ambulance crews, introduced by ministers at Westminster, in a bid to abandon them in Scotland.
The service's Pauline Howie said: "We're reviewing the meal break policy in discussion with our staff and with Scottish government and we're hopeful that we can come up with a solution.
"In Tomintoul I'm pleased to say that the members of staff are all available during their meal breaks, so that should reassure the community here."
Mandy Mathieson's brother, Charles, was one of those at the meeting.
He told BBC Scotland: "The community are obviously extremely upset by what happened.
"That's why they've come to the meeting today to get assurances that the same can't happen here and indeed anywhere in Scotland again."
Moray MSP Richard Lochhead, who chaired the public meeting, said the SAS had agreed to return to Tomintoul in a few months to review their progress.
He added: "Obviously there were many frustrations felt by those attending for what is a very distressing situation for one family in particular.
"However, I am encouraged that improvements in the service provision are happening in Tomintoul, although issues remain to be resolved around the major concern over meal break policy.
"The Scottish Ambulance Service have stated their commitment to working with communities and, in particular, to reaching a positive resolution on the issues raised."
The family of the ambulance technician has insisted he was not tasked to respond to the call and that the SAS had acknowledged this was the case.