Bird family solves Caledonian Canal fish mystery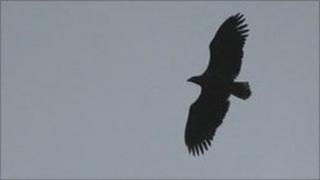 A mystery surrounding finds of large half-eaten fish on a Caledonian Canal path near Inverness has been solved by a family with the surname Bird.
The youngest member of the family, Grace, 10, was the first to spot the young sea eagle responsible.
The Birds, who live in Dochgarroch, later photographed the raptor.
RSPB Scotland conservation officer Dr Alison MacLennan identified the bird as a juvenile sea eagle from the photographs.
She said: "This bird will almost certainly be one of the wild bred juveniles, reared last summer in a nest on the west coast.
"It may well be wearing a colour leg ring with a code which will identify the individual and where it has come from.
"Young west coast sea eagles leaving home quite often wander east in their first winter in search of food."
Grace's mother, Aileen, said it was exciting to have the UK's largest bird of prey hunting near their home.