Global Energy Group named preferred bidders for yard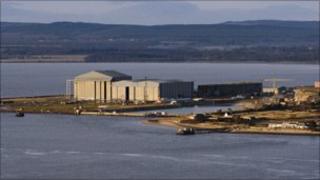 Scottish firm Global Energy Group have been named preferred bidder for a mothballed Easter Ross oil and gas platform fabrication yard.
The Nigg yard is owned by engineering giant KBR and the Wakelyn Trust, which represents a family landowner.
The former oil and gas offshore platform construction yard is to be developed as an energy industry manufacturing and servicing centre.
Local councillor Ian Ross said it was an important development.
He told BBC Scotland there had been frustration in the local authority at a lack of progress in reviving the fortunes of the yard.
Mr Ross added: "If you have a preferred bidder in place you can now begin to move this forward and make an enormous contribution to the Highland economy."
Last year KBR scrapped plans to start manufacturing components for the offshore renewables industry at Nigg and put the yard back up for sale.
'Unrivalled expertise'
Global Energy has head offices in Inverness and Aberdeen.
It said redeveloping Nigg as a "modern, multi-user, multi-sector energy centre" could created more than 1,500 jobs.
Chairman Roy MacGregor said: "We are committed to realising the vision of creating an international manufacturing and service hub in the Highlands, building on the region's unrivalled expertise and experience in both oil and gas and renewable energy.
"This plan has the potential to put Nigg - and Scotland - firmly on the global energy map, creating jobs and prosperity for generations to come."
Global Energy will now negotiate with KBR and Wakelyn Trust on buying and leasing large parts of the site.
'Tremendously valuable'
Highlands and Islands Enterprise has welcomed the announcement.
Charlotte Wright, director for business and sector development, said: "The Nigg yard, which is built around the largest dry dock in Europe, is a tremendously valuable asset for the Highlands and Islands and for Scotland.
"It has been identified as a key strategic site in the development of renewable energy with the potential to support thousands of jobs."
She added: "The news that it could now be sold commercially to an ambitious Scottish business is very welcome.
"Reaching an agreement would clear the way for Nigg to fulfil its full potential supporting growth in the oil, gas and renewables industries."
Ross, Skye and Lochaber Liberal Democrat MP Charles Kennedy said redeveloping the yard had been talked about for years.
He added: "Global Energy is a company firmly rooted in the Highlands, with a well deserved world-wide reputation.
"Its work right across the energy sector means the business is well equipped to make the best use of Nigg in the years ahead."
Highlands and Islands SNP MSP Rob Gibson said: "I am glad to see a local firm with a proven international track record has been named the preferred bidder.
"Global Energy Group is a key economic player for the local and national economy.
"I hope that a speedy decision is made so that Nigg can start contributing to the green renewable future of Scotland and Europe. As it contributed to Scotland's and Europe's oil future in previous years."