Prison plan for Inverness campus site rejected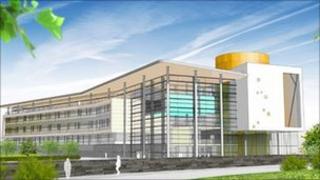 The Scottish Prison Service (SPS) has been told it cannot build a new prison on land earmarked for a new academic and research campus in Inverness.
The SPS had been in discussion with landowner Highlands and Islands Enterprise (HIE) about constructing HMP Highland at Beechwood.
HIE said the plan was given serious consideration but it did not have "a strong strategic fit" with its vision.
It has offered to help the SPS find another site.
HMP Highland would replace Porterfield, which is near Inverness city centre and opened in 1902.
In 2008, it was described as one of the most overcrowded in Scotland.
The then HM chief inspector of prisons, Dr Andrew McLellan, said a new prison for the Highlands was needed.
He reported Porterfield inmates sleeping on mattresses on cell floors and female prisoners having little to do.
'Centre for excellence'
HIE said demand for land at its proposed campus had been considerable.
Parts of the site have already been set aside for the prospective University of the Highlands and Islands, a new £75m Inverness College building and potential use by research and commercial organisations.
A spokeswoman said: "The Inverness Campus project at Beechwood has attracted interest from a wide range of organisations since the proposals for an academic, research, sporting and commercial 'centre for excellence' became known."
She said the prison plan was considered by the board last year.
The spokeswoman added: "The board came to the view that the proposal does not have a strong strategic fit with the overall campus vision, masterplan, and objectives shared by all the partners involved.
"In addition, the SPS proposal would mean selling a very significant portion of land very early in the planning process for the campus project."
Retail park
The SPS announced in October 2008 it planned to replace Porterfield with a new prison.
A spokesman said: "Work was taken forward in conjunction with Highland Council to identify potential sites for this development within or near to Inverness.
"This exercise identified a number of sites which merited consideration and further detailed work was then carried out to evaluate the suitability of these sites.
"From this work, SPS identified that the most suitable site for the development was a site owned by Highland and Islands Enterprise which is located adjacent to the Inverness Retail Park."