Firefighters get new backdraught training units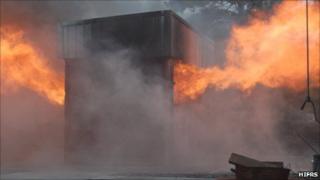 New training units will allow Highlands and Islands firefighters prepare for conditions that can result in fire crew deaths and serious injuries.
Temperatures inside the simulators at Invergordon and at Sumburgh Airport on Shetland can reach more than 750C.
Firefighters using breathing apparatus will be able to train against phenomena known as flashover and backdraught.
The conditions can lead to water from fire hoses turning into huge amounts of steam which then scalds firefighters.
A gas simulation unit is already available at Fort William.
'Unwelcome trend'
The new facilities at Sumburgh will be used by crews on Shetland and Orkney.
Assistant Chief Fire Officer Mike Holme said the new simulators were a major step forward for Highlands and Islands Fire and Rescue Service.
He said: "Prior to this facility, fire behaviour training was either theoretical or 'on the job'.
"Backdraught and flashover situations have contributed to the rise in firefighter deaths and injuries across the UK.
"This facility and those like it will help us address this unwelcome trend."