Police officers suspended amid murder conduct probe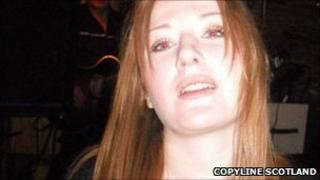 Two police officers have been suspended in connection with alleged mistakes made weeks before an Easter Ross woman's murder by an ex-boyfriend.
Donna Forrest, 30, was killed at a house in Balintore in April last year.
It is understood the disciplinary measures relate to the way police handled a 999 call made by someone before her murder.
Philip Fraser, 50, was sentenced to life in prison for the murder and told he must serve a minimum of 20 years.
The High Court in Edinburgh heard in July last year that Ms Forrest had told friends he was pestering her following the end of their relationship.
Northern Constabulary has previously apologised for failing to spot evidence in the case during searches of the murder scene.
The latest twist was revealed in a statement from Deputy Chief Constable Garry Sutherland.
'Unacceptable error'
He said two officers were suspended pending further inquiries following an internal investigation into allegations about officer conduct prior to the murder.
Mr Sutherland added: "The murder inquiry was properly investigated and this resulted in the conviction of Philip Fraser in July last year.
"It is true that a forensic search, whilst finding the two murder weapons, failed to locate an additional knife.
"This was an unacceptable error and fell below the expected standard. Apologies were made for this and the officers have been dealt with appropriately and that matter is closed."
The senior officer said the force dealt with professional conduct matters robustly and thoroughly, adding that full details could not be released to ensure the two suspended officers received a fair hearing "untainted by speculation".
Kept secret
He added: "A full report will be submitted to the procurator fiscal for independent scrutiny.
"We are keeping Ms Forrest's family fully updated and will share the final outcome with them at the appropriate stage."
Fraser, of Balintore, is serving his second life sentence for murder.
He killed his ex-wife Katherine Scafe in 1997 and was jailed at Liverpool Crown Court.
Fraser was freed on licence in February 2008 and moved to Balintore, where he lived close to mother-of-one Ms Forrest.
The pair started a relationship which Fraser kept secret from his supervising officer.
Ms Forrest broke it off and later began seeing another man.