Highland heating oil thefts 'related to' bad weather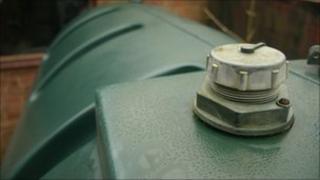 Thefts of heating oil from properties in parts of the Highlands rose during the prolonged period of bad weather last year, police have said.
In a report, Northern Constabulary said domestic oil tanks may also have been targeted because of the current financial climate.
Thefts were reported in Ross and Cromarty and Lochaber.
Demand for heating oil increased in November and December amid sub zero temperatures and heavy snowfalls.
On 20 December, the Scottish government described deliveries that arrived by ship to Inverness and Aberdeen as "vital".
The kerosene amounting, to a total of 1.8 million litres, were distributed to homes in Aberdeenshire and the Highlands.
Distributor Highland Fuels said at the time that demand for heating oil had "gone through the roof".
Northern Constabulary has reported the rise in thefts in a paper to Friday's Northern Joint Police Board.
The force said: "Whilst there is no pattern to these episodes no doubt they are related to the current financial and prolonged inclement weather periods which have curtailed availability and substantially increased the cost of fuel."
Frozen pipes
In the same report, Northern Constabulary has mentioned other effects of wintry conditions experienced during November and December.
Officers working in Caithness, Sutherland and Easter Ross dealt with a range of incidents which the force said do not show up in its official statistics.
They included reassuring older people after frozen pipes burst in their homes and also gritting a stretch of road to prevent accidents.
The force said it took many calls from travellers about road conditions when the people should have sought the advice from organisations such as Traffic Scotland.
In the report, Northern Constabulary said: "There is no doubt that many such callers prefer to speak to a local member of Northern Constabulary.
"This perhaps represents a generally excellent service in community policing but is expensive in terms of the resourcing required."
On Shetland, the force said officers dealt with 90 road crashes during 2010's spell of severe winter weather.
Eleven of the accidents resulted in injuries to motorists.