Golf swings into Highland 'corridor of power'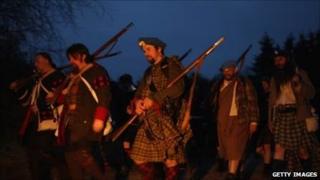 New Scottish Open host Castle Stuart Golf Links lies within a strip of land with a bloody past and, in the future, could become one of the most developed areas of the Highlands and Islands.
Known as the A96 Corridor, the strip covers several hundreds of acres stretching between Inverness and Nairn and flanked by the Moray Firth and the B9006 road.
Highland Council has produced a masterplan to guide development in the area over the next 30 years.
What has already been planned could make the corridor powerful in terms of job creation and the delivery of further education in the region.
Highlands and Islands Enterprise has proposed creating an education and research campus at Beechwood on the eastern outskirts of Inverness.
It would provide a new base for the prospective University of the Highlands and Islands (UHI), which is tipped to secure full university status later this year.
New town
Consortium Inverness Estates Ltd has proposed creating a new town on farmland a short distance away.
To be built in phases, 2,550 homes, a school, two hotels, churches and shops could be constructed on 194 acres (78 hectares).
Moray Estates Development Company Ltd also has plans for a new town at Tornagrain, mid-way between Inverness and Nairn.
If it goes ahead it would provide homes for 10,000 people.
Historically, the strip of land has provided the backdrop to bloody episodes in Scotland's past.
The golf course takes its name from a 17th Century stronghold of the Stuart's.
Following the death of her husband, the Dauphin of France, Mary Queen of Scots gave land in the area to her half-brother, James Stuart.
She granted him the title Earl of Moray and he ruled Scotland as regent until his murder.
Jacobite battle
Castle Stuart was completed in 1625 but soon after was attacked and taken over by members of Clan MacIntosh. The Stuarts paid them off and regained control of the castle.
The property fell into ruin during Oliver Cromwell's rise to Lord Protector of England, Scotland and Ireland.
Later rebuilt, the castle is today run as a luxury holiday accommodation and a tourist attraction.
The A96 Corridor also includes the site of the 1746 Battle of Culloden.
On the night before the battle, Jacobite forces attempted to ambush government troops camped at Nairn.
The night march was aborted and the Jacobites regrouped at Culloden where they were defeated in the battle.