Weekend earthquake latest to be recorded in Scotland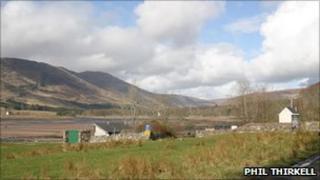 An earthquake in the Highlands was the latest in a series to be recorded across Scotland since the start of 2011, according to official data.
The British Geological Survey (BGS) said the 3.5-magnitude quake struck in Glenuig, 25 miles (40km) west of Fort William at about 0600 GMT on Sunday.
People in Inverness, Skye and Oban reported feeling tremors.
BGS previously recorded events near Applecross, Dingwall, Dumfries and on Islay during this month.
The 2.1-magnitude earthquake on Islay, in Argyll, on 14 January was felt by islanders, according to the survey.
Dingwall's quake on 18 January measured 1.7, while the one in Applecross on 6 January was of a magnitude of 1.2 and the Dumfries quake on 16 January was 0.9.
The BGS said Sunday's earthquake was the largest detected in the area since a 3.5 event on 10 January 2008 near Glenfinnan.
It added that historically the largest earthquake in the west Highlands was of a magnitude of 3.6 and recorded in Moidart on 14 October 1902.
Military mines
Small-scale quakes are a relatively regular occurrence in the Highlands.
People living in and around Applecross felt a 3.1 event in June 2006.
In 2008, Scottish Water said a new 900m waste water pipe had been designed to withstand minor earthquakes because it lies across the Great Glen fault line.
The £3.8m project takes sewage from North Kessock on the Black Isle under the sea to South Kessock in Inverness, for disposal.
In April of the same year, the Royal Navy confirmed explosions recorded by earthquake recording equipment were caused by military mines clearance training.
Weather vane
BBC Scotland had reported how the BGS registered the explosions three times in the Minch during exercise Joint Warrior.
They were recorded as earthquakes until confirmation from the Royal Navy that minesweepers were removing objects from the seabed as part of training.
Meanwhile, a clock tower in Inverness, damaged by an earthquake in 1816, is to be the focus of major repair work.
The top of the steeple on the corner of Church Street and Bridge Street was twisted, but later repaired.
However, recent survey work found stone work, the clock faces and the tower's weather vane required fresh work at an estimated cost of £950,000 to Highland Council.