Earthquake hits west of Scotland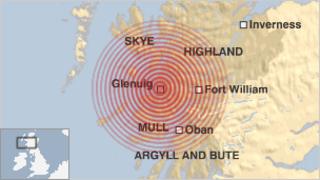 An earthquake has been recorded in western Scotland.
The British Geological Survey (BGS) said the 3.5-magnitude quake struck in Glenuig, 25 miles (40km) west of Fort William in the Highlands at about 0600 GMT.
People in Inverness, Skye and Oban, reported feeling tremors, which were experienced across the west Highlands.
The BGS said such an earthquake might be felt up to 120km (74 miles) away but was unlikely to cause much damage.
It comes two weeks after residents in the North Yorkshire town of Ripon experienced a quake of a similar size on 4 January.
The Highland quake follows a seismic event of a magnitude of 3.4 detected at Glenfinnan in October 2008.
Seismologist Davie Galloway said the UK tended to experience such quakes, on average, about once a year.
He said: "This quake was recorded on our instruments in Wales and in Shetland but it was actually felt by people 120km away in Inverness.
"We had a few calls from people who said they felt a vibration in their beds and also from people who said their cats were going mad."
Mr Galloway said the quake originated from 16km below the ground.
He added: "Britain is criss-crossed by many geological faults but fortunately we are some distance away from the plate edges where most activity is experienced."