Aviemore Sled Dog Rally takes place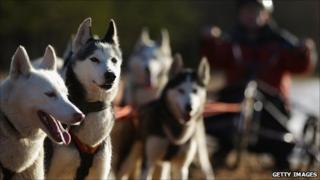 More than 1,000 dogs and 200 teams have taken part in Britain's biggest husky race, in the forests around Aviemore, despite the lack of snow.
The husky race was first held in 1984 with just a dozen teams but now 200 mushers and their dogs tackle the four-mile (6.4km) track.
The Aviemore Sled Dog Rally was held in the Glenmore Forest Park.
The huskies pulled three-wheel rigs rather than sleds because the prolonged snowfall has now thawed.
Organised by the Siberian Husky Club of Great Britain, the rally runs on tracks around Loch Morlich in the shadow of the Cairngorms.
Alaskan Malamutes, Samoyeds, Greenland Dogs and Canadian Eskimo Dogs take part in the rally, alongside Siberian huskies.
Judy Wakker, from The Siberian Husky Club of Great Britain, said: "We've had a fantastic weekend. The weather and the track conditions were really good.
"Everyone has enjoyed themselves, including the spectators who turned out today and yesterday.
"We'd like to thank our sponsors Arden Grange, the Forestry Commission Scotland and all the people of Aviemore for making us all so welcome.
"Some of the mushers have been saying they have already booked their accommodation for next year."