Sunday ferry for Harris opposed by Lord's Day society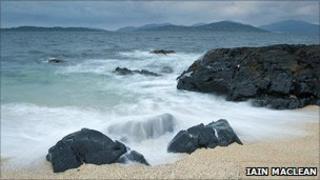 A church organisation has opposed plans to provide the isle of Harris with ferry services to the mainland on a Sunday.
The Reverend Iain Campbell, chairman of the local Lord's Day Observance Society branch, said it would mark a "further erosion of traditional values".
Ferry operator Caledonian MacBrayne has started consulting people on Harris about the proposal.
The Rev Campbell said they wanted to avoid the "hustle and bustle of 24/7 travel".
He told BBC Scotland: "Our branch is simply concerned to defend something that we believe is important, something that is an important part of our religious heritage.
"We don't think it would benefit the island to have a further erosion of some of our traditional values."
The Rev Campbell, minister of Point Free Church, added: "I know of many people who have said that one of the reasons they moved to the island, or enjoyed coming to the island, was precisely because they are able to get away from the hustle and bustle of 24/7 travel."
At the moment, Tarbert, on Harris, does not have a ferry service on the Sabbath, although a boat goes empty from the island to North Uist to provide a Sunday service to Skye from Lochmaddy.
CalMac said it was aware that local opinions on a Sunday ferry service were divided.
It said no decision would be taken until the consultation ended.
The first scheduled Sunday ferry sailing from the isle of Lewis, which is connected to Harris, began in June 2009.
There had been strong opposition on the island, where the Sabbath day has traditionally been strictly observed.
CalMac said religion or beliefs were not valid reasons under European law to refuse to run the ferry.