Anger over vandalism to Fort William's war memorial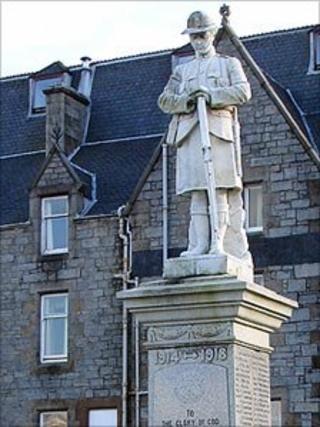 CCTV footage is to be examined by police in an effort to find the vandals responsible for damaging a war memorial in Fort William.
A marble replica of an Enfield rifle has been broken in the latest in a series of attacks over recent years.
Highland councillor Brian Murphy said the incident was "deeply shocking and disturbing".
Police have urged anyone with information about the vandalism to contact them.
Mr Murphy said: "It is a sad fact of life that cemeteries and memorials across the country are subject to acts of vandalism.
"Fort William War Memorial has suffered from similar such acts of anti-social behaviour for several years.
"War memorials are symbols of remembrance to those who made the ultimate sacrifice for our country."
Ch Insp John Chisholm, from Northern Constabulary, added: "This is a despicable act of vandalism carried out by someone with not a shred of decency or respect for all those servicemen and women who gave their lives for this country."