Hebridean sea shepherds seeking fresh blood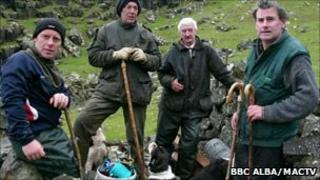 Crofters who tend flocks of sheep on small islands in the Outer Hebrides are hopeful that young people are willing to continue the tradition.
Dubbed sea shepherds, the handful of men manage livestock on pastures of the Shiant Islands off the coast of Lewis and Pabbay off Harris.
Sandy Granville said that without newcomers the grass would be grazed by "decorative flocks".
The sea shepherds will feature in a BBC Alba documentary on 24 January.
Mr Granville, who worked as a barrister before becoming a shepherd, said it was hard work.
He added: "You know if you put sheep on an island you are always going to find them there again, either alive or dead, whereas in the other place, who knows where you are going to find your flock.
"When the sheep are gone from these hills and moors, someone is going to discover that they need them, and then they are going to pay somebody to look after decorative little flocks.
"It would be better if we could just find some young people who would be able to carry on keeping the sheep in the traditional way."
Derick Morrison, from Stornoway, is a new shepherd and has taken over grazing rights on the Shiants.
He works his flocks while on leave from his job as an offshore oil worker in the Arctic Circle.
Mr Morrison said of the Shiants: "On a nice morning there's no better place to be waking up.
Ciobairean Mara/Sea Shepherds will be shown on BBC Alba on 24 January at 2100 GMT.