Hospital and care home gardens could grow food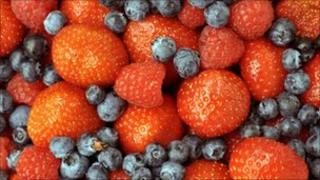 The grounds of care homes and hospitals could be used to grow fruit and vegetables to help reduce the amount of produce transported from miles away.
Cairngorms National Park Authority (CNPA) has been looking for park residents to register their interest in growing produce in allotments.
It said Highland Council had looked at the potential of also using care homes and hospital gardens in the area.
The efforts form part of the Cairngorms Food for Life project.
It was launched in September 2010 to reduce food miles and increase consumption of locally-grown and made produce.
Earlier this month, the project secured £58,300 of European funding.
Voluntary Action Badenoch and Strathspey is another partner along with Highland Council in the allotment scheme.
CNPA board member Jaci Douglas said it was known that many park residents wanted to grow their own food.
She said: "The work that Highland Council is doing on identifying suitable sites, coupled with the Cairngorms Food for Life project, I can see us making real progress in this area in 2011."