Decision on new Loch Ness visitor centre deferred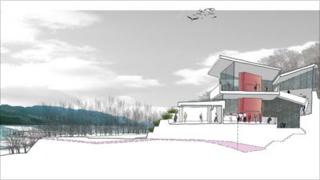 A decision on plans for a new visitor centre on the shores of Loch Ness has been deferred for a site visit.
Highland Council officers had recommended granting full planning permission for the Jacobite Discovery Project at Brackla.
The go-ahead was subject to 47 conditions being met, including measures to protect wild fish from harm during the construction work.
The site would provide the developer, Jacobite Cruises, with a new base.
Its cost is expected to run to almost £3m.
At a meeting in Inverness, councillors deferred taking a decision on the proposal so they could inspect the site.
Inverness Chamber of Commerce and tourism body VisitScotland have supported the application.
Glen Urquhart Community Council has objected and raised concerns about the project's location on the A82 road.
The community council has also said the centre could threaten other local businesses and wildlife.
Rod Michie, who has been leading the project for 18 months, said he was disappointed by the deferral.
He said: "We've gone through the consultation process in great detail and have been trying to bring everyone with us all the way.
"The recommendation to grant includes 47 clauses, one of which is that there will be a right-hand side turning lane into the site.
"We are aware there was genuine concern in the local community about road safety, but we feel the construction of the junction goes beyond the standards required by Transport Scotland."