Scientists suggest red deer on Rum rutting earlier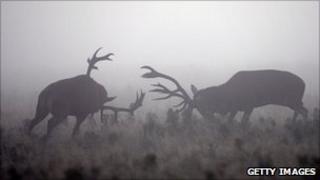 Wild red deer on a Scottish island have started rutting earlier in the year because of climate change, scientists have suggested.
Research by the universities of Cambridge and Edinburgh looked at records of deer behaviour on Rum over the last 38 years.
It suggests ruts, when males compete for a mate, and calving were now up to two weeks earlier on average.
Researchers said this could be because of warmer springs and summers.
Dr Dan Nussey, of Edinburgh's school of biological sciences, said evidence of large mammals reproducing earlier was rare.
He added: "Much more work is needed to understand whether similar changes are taking place in deer populations elsewhere, and what the implications of such changes will be."
Prof Tim Clutton-Brock, of Cambridge's department of zoology, said long-term studies of wild animals were crucial to understanding the consequences of climate change.
The research, published in the journal Global Change Biology, was funded by the Natural Environment Research Council (NERC) and supported by Scottish Natural Heritage.
Ruts take place in autumn.