Burst pipe was 'draining' Highland village's supply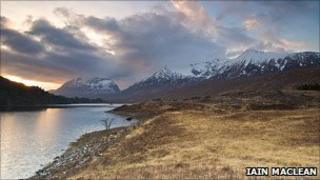 A burst pipe inside a vacant holiday home in Wester Ross was draining a village water supply, Scottish Water has said.
Staff eventually managed to track down the owner of the property in Diabeg, in Torridon, who directed them to where the stopcock was hidden.
Scottish Water said the workers managed to shut off the water before the village ran dry.
The incident was among leaks tackled during December.
Scottish Water's Ullapool-based staff and contractors dealt with leaks that threatened supplies to up to 600 homes.
Andrew Boa, a senior treatment operator, and two of his colleagues spent 17 hours on Christmas Day and a further 17 hours on Boxing Day tracking down and repairing more than 100 burst pipes.
They also shut off 20 stopcocks at locations where leaks were found, including outside taps and public toilets.
The vast majority of the leaks were not on Scottish Water's network, the organisation said.