Moray-based 'intimacy' device lab ceases trading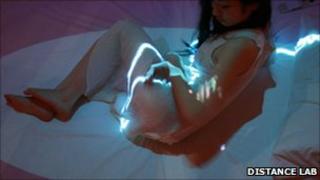 A technology laboratory working on a prototype device designed to communicate intimacy over distances has been wound up, it has emerged.
Backed by £3m of public money, Distance Lab had said in 2008 it expected to raise £2m or more and become self-sustainable in just over three years.
Based in Forres, staff had been working on Mutsugoto, a device to help couples stay in touch while separated.
They were also working on Remote Impact, an interactive fighting game.
The company's projects included research on the use of technology in medicine and health.
Highlands and Islands Enterprise (HIE) provided seed funding to Distance Lab and owned the operation.
The laboratory's office space at the Horizon building at Forres' Enterprise Park has been taken over by Glasgow School of Art for a satellite centre for design and innovation.
HIE said: "Distance Lab ceased trading last year.
"The business was a wholly owned subsidiary of Highlands and Islands Enterprise set up as a research initiative for digital media technology and design innovation.
"At the end of a three year funding cycle, Highlands and Islands Enterprise board made the decision that the project had come to a natural conclusion."
The spokeswoman added: "Three members of research staff and medical research projects were transferred to the new Centre for Design Innovation run by Glasgow School of Art in Forres.
"The reputation for design which Distance Lab cultivated and the projects developed there attracted international attention.
"The nature of Distance Lab's research work was significant in the subsequent link with the renowned Glasgow School of Art and the creation of the Centre for Design Innovation."
Distance Lab's website carries the message: "Please note Distance Lab is no longer trading. This site is for historical record purposes."
Mutsugoto and Remote Impact were among its prototypes that attracted the most public interest and were showcased at events across Europe.
Volunteers were sought at the 2009 Edinburgh Arts Festival to try out Mutsugoto.
The device allows couples, who are separated by distance, to "draw" in light on each other's bodies or beds.
Remote Impact was a game in which people threw themselves at a life-sized image of an opponent who could be on the other side of the world.
In the prototype, people battled a silhouette projected on to a mattress with the device registering the strength of blows.