Achievements in renewables 'should not be overlooked'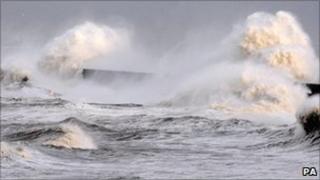 Successes in the renewables sector should not be overlooked after Skykon was placed in administration, an industry forum has said.
Scottish Renewables chief executive Niall Stuart said the problems at the wind tower manufacturer in Argyll were worrying for the local economy.
But he added that other Scottish firms had been doing well.
They include engineering companies based in the Highlands, Fife and Renfrew.
The parent company of Skykon, which has a plant in Machrihanish, Campbeltown, said on Wednesday that the cash-strapped firm was suspending payments to its creditors.
About 130 people work at the plant, which is one of Kintyre's biggest private sector employers.
Highlands and Islands Enterprise (HIE) and the Scottish government said they would work to try to save the jobs.
Mr Stuart said: "Skykon's problems really stem from the credit crunch and a sharp slowdown in the European market. However, the Machrihanish factory has a strong order book due to the big growth in wind power across the UK - particularly in Scotland.
"The company also had plans to get into the fast-emerging offshore sector."
He added: "Despite this bad news for the local economy, we shouldn't overlook successes like Gael Force, Steel Engineering and BiFab who, together with many other companies in Scotland, employ thousands of people in development and manufacturing for the renewables industry."
Inverness-based Gael Force, which employs 120 people and has a factory in Stornoway on Lewis and a warehouse in Plymouth, has evolved its business over almost 30 years.
It went from manufacturing creels to supplying commercial fishing equipment, before expanding into the provision of moorings and barges for large fish farms.
Five years ago, it entered talks with renewable energy companies and has since been working with Inverness firm Wavegen and US-based Ocean Power Technologies.
A major project has been the development of a gravity anchor for mooring wave devices to the seabed.
The anchor has been designed to be moved without the need of a heavy crane barge and, once in position, does not drag and cause damage to the seabed.
David Guthrie, of Gael Force, said: "It is a difficult market to get a handle on at the moment as everything is at the trial stage. Offshore wave and tidal power are still unproven.
"But it is very much a new opportunity for us and an area we are planning long-term for."
He added: "In marine renewables there are significant opportunities for us and other companies if you adapt what you are doing and how you do it."
Renfrew's Steel Engineering employs 120 staff and serves the oil and gas and marine renewables sectors.
Production director Peter Breslin said the firm hoped to secure an order to manufacture a third Pelamis wave power machine in the first quarter of 2011.
Steel Engineering's move into renewables has led to it working with Glasgow's Anniesland College in training its apprentices in the new skills needed for the industry.
Mr Breslin said the company also planned to expand its site at Westway Industrial Estate, which would allow it to start manufacturing for the offshore wind sector.
He said the firm aimed to more than double its workforce over the next two years.
In December last year, Burntisland-based BiFab won a £4m contract to build a next-generation wave energy device for Aquamarine Power.
It will build Edinburgh-based Aquamarine's Oyster 2 device at its manufacturing plant at Methil.
The Oyster will then be tested at the European Marine Energy Centre in Orkney.