Latest sighting of rare bittern at Insh Marshes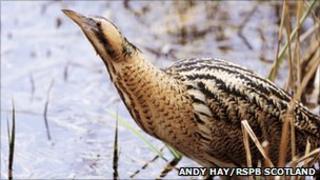 A rare heron has been spotted by bird-watchers at RSPB Scotland's Insh Marshes reserve in Strathspey.
The bittern has been seen hunting for fish at small patches of unfrozen water at the site for about a week.
Alan Tissiman, of the RSPB, said the previous record of the bird in Strathspey was made in 1992.
It is the latest sighting of a bittern made this winter at locations in the UK where the heron has rarely been seen previously.
In the last week of December, three of the birds were seen at Lake Tacumshane in County Wexford. Bitterns had not been seen in Northern Ireland for more than 150 years.
Also during December, two bitterns were seen at Rainton Meadows, near Houghton-le-Spring, the headquarters of Durham Wildlife Trust, and another in Worcestershire.
Mr Tissiman said the birds were believed to have bred in Scotland until about 1830.
He added: "At one time they were quite common and acquired Scottish names such as Jock o' the Mire, Bull o' the Bog and Bogle bird.
"They are even mentioned in a poem by Robert Burns."