Robbed burial cairn find at Dounreay nuclear dump site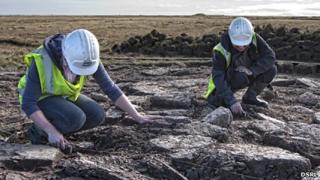 A large ancient burial cairn has been uncovered at the site of a proposed £100m nuclear waste dump.
But archaeologists found no remains in the cairn or its central cist, suggesting the site at Dounreay was robbed of its artefacts in the past.
The cairn dates from about 4,000 years ago during the Bronze Age.
An archaeological survey was made of the area on the Caithness coast ahead of construction work on the store for low-level radioactive waste.
Archaeologist James McMeekin told Dounreay's monthly magazine that people were usually buried in cairns along with their treasured possessions.
Highland Council approved plans for the dump in 2009.
It will be constructed on a former military airfield.
Building the store within the Dounreay nuclear complex site was ruled out because of the potential future threat of coastal erosion.