Bus carrying 21 passengers slides off Wester Ross road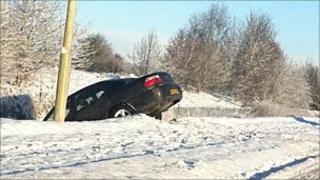 A bus carrying 21 passengers slid off a road in Wester Ross amid difficult travelling conditions in the Highlands.
Police said no-one was hurt in the accident which happened at about 0930 GMT on the A832 at Gruinard.
Other routes - including streets in Inverness - have been affected by snow and ice. The B9007 Carrbridge to Ferness road was closed by snow.
Inverness Airport's runway was closed for most of the morning but has since reopened.
More than 60 schools across the Highlands have been affected by snow and ice.
The primaries and academies have been shut completely or closed to pupils who use school transport.
The crash at Gruinard involved a Westerbus service vehicle. Police said it slid off the road into rocks at the roadside.
Another bus was sent to the scene and took the passengers on the rest of their journey.
Northern Constabulary added: "Some routes are still affected by hard packed snow and icy patches and a partial thaw today may cause further problems later with surface water and dropping temperatures.
"As expected the more exposed routes have been more severely affected overnight with some drifting snow, and drivers should continue to exercise extreme care."