Bristol firm plans Scotland's first tidal energy farm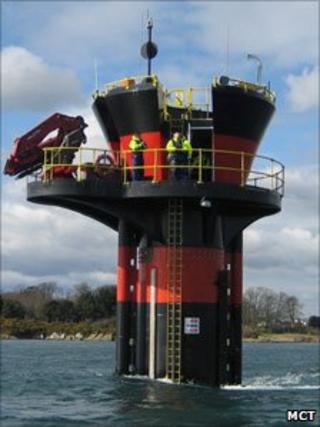 A Bristol-based company said it plans to install Scotland's first tidal energy farm in 2013.
Marine Current Turbines (MCT) said the project at Kylerhea, narrows between Skye and the Scottish mainland, could supply electricity to 4,000 homes.
The company already operates a commercial-scale tidal power device at Strangford Lough in Northern Ireland.
It would install a group of four SeaGen tidal units at Kylerhea at a cost of £35m.
MCT will hold a public exhibition in Glenelg next year before finalising a planning application for the scheme.
Project manager David Ainsworth said: "Engagement with local interests is an important part of our work and so far the response to our plans has been generally positive.
"Our experience of working in Strangford Lough has been hugely valuable in taking forward our plans for Kylerhea, and has helped assure people about the impacts of deploying our technology."
MCT said its plans would complement, and not rival, Sheffield-based Pulse Tidal's plans for Kylerhea.
Pulse proposes to put a device on the seabed. It would be fully submerged and would not be visible on the surface of the sea.
In May, Pulse said it had started an environmental study ahead of an application to Marine Scotland, which is part of the Scottish government, for a licence to start producing electricity commercially in 2012.
The Kylerhea Narrows is the shortest sea route from Skye to the mainland at a distance of about 550m.
A community-owned ferry crosses the stretch of water from Glenelg on the mainland to Kylerhea on Skye.
In the past, cattle drovers swam across the narrows with their black Highland cattle on their way to cattle fairs in lowland Scotland.