Living in a Christmas card scene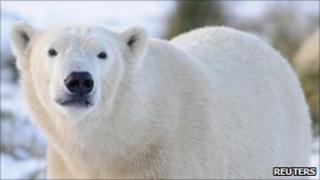 Two Army Lynx helicopters clattered low over Inverness in the milky light of yet another cold and frosty morning.
Pausing from scraping a car gift-wrapped in ice, flying looked like the best prospect of getting anywhere fast.
Though the Highland capital has not seen a proper snow flurry since the weekend, it has been in the grip of freezing temperatures.
Car doors are frozen shut and prising them open is at the risk of ripping off the doors' rubber seals.
Once inside, the temperature gauge on the dashboard display glows a very chilly -12C.
It is so cold that condensation on the inside of a window of our house freezes immediately on opening it a crack to let a little air into a room.
Outside your breath mists like empty cartoon speech-bubbles.
Thick snow coats the bare branches of trees and the snow on the ground is fine and powdery.
Everywhere appears to have the potential of making a scene for a Christmas card.
Further north in Altnaharra, in Sutherland, it has plunged to -20C. Last winter the temperature in the village dropped to below -22C.
A resident interviewed for BBC Radio Scotland said she could not say what it was like outdoors because she had decided against venturing beyond her front door for the past 10 days.
Two Highlands residents who have been revelling in the conditions are Walker and Mercedes - the polar bears at the Highland Wildlife Park at Kincraig.
Since the first covering of snow last week, the BBC and press photographers have been at the park to capture images of Walker in a winter wonderland.