Altnaharra couple snowbound for past 10 days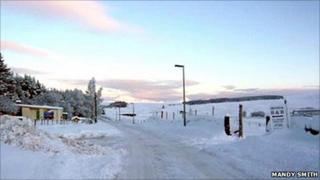 Residents of a community where the temperature plunged to -20C overnight have been snowbound in their home for the past 10 days.
Margaret and Frank Duffy, who live in Altnaharra in Sutherland, said their car lay frozen under a "big ball of snow".
Snow ploughs have been unable to clear the road to their home.
Freezing temperatures and snow has continued to affect travel on roads and closed schools across the Highlands.
Police said the B9007 Glenferness to Carrbridge road remained closed because of snow.
More than 20 schools across the region have shut, or have been closed to pupils who use school transport.
Altnaharra recorded the lowest temperature of last winter with a reading of -22.3C in January this year.
Mrs Duffy said: "It is -17C just now.
"I haven't been out for 10 days just because it has been so cold.
"You can definitely feel it. It is very, very cold."
Her husband added: "You've just got to live with it, there is nothing you can do to change it.
"Our little main road up here is clear but we cannot get access to it because our own side road is snowed in.
"I think our car is frozen anyway. It's under a big ball of snow at the moment and I've not seen it for 10 days."
The owner of the Garvault Hotel, also in Sutherland and dubbed the most remote hotel on the British mainland, said he expected to be snowed in for a week this winter.
Graham Bentham said: "It is snowing at the moment, although it is bright, and it was awfully cold last night.
"It is affecting trade because people have great difficulty getting to the hotel.
"Also, once they do get here they don't know when they will get out."
The wintry weather has been good news for Scotland's ski resorts.
CairnGorm Mountain's slopes and lifts were open, but the centre has warned hillwalkers to be wary of avalanches.
Nevis Range plans to open this weekend - two weeks earlier than scheduled.
Bob Kinnaird, of Glenmore Lodge Outdoor Training Centre, near Aviemore, said the start of winter was when winter sports enthusiasts were at most risk from avalanches.
He said: "Last year we were skiing into May and even June and we had a fairly stable snow pack.
"Right now it is very different. It is snow on a clean base of rocks and it is a lot less stable."