Oldest Highland chanter returns to Scotland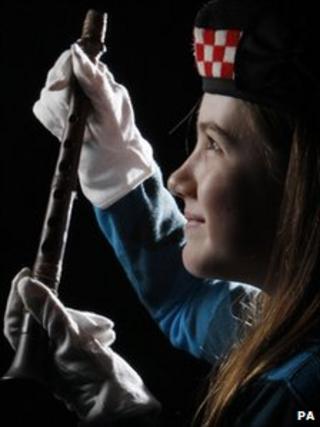 Scotland's oldest Highland bagpipe chanter has been donated to National Museums Scotland after it was taken to Canada 205 years ago.
The instrument had belonged to composer Iain Dall MacKay, who was born at Talladale on Loch Maree in 1656 and trained as a piper on Skye.
His grandson John Roy MacKay took the chanter with him to Nova Scotia when he emigrated from Scotland in 1805.
It has been put on display at Glasgow's National Piping Centre.
Grace Welden, a distant relative of Iain Dall MacKay, was at the ceremony marking the chanter's return to Scotland.
The instrument had most recently been in the care of brothers Donald and Michael Sinclair, also relatives of the composer.
Dr Hugh Cheape, a former curator at National Museums Scotland and a student of bagpipe history, said MacKay was one of the greatest ever writers of a form of Scottish music called piobaireachd.
He added: "To think that these timeless pieces of music were possibly composed and played on this very chanter will be awe-inspiring for fans of the tradition.
"We must thank the MacKay Sinclair family for keeping such good care of the chanter over so many years."
Lady Oona Ivory, founder and vice-chairwoman of the National Piping Centre, added: "We are delighted that this donation is going to be housed in the National Piping Centre.
"It will enhance the exhibition, which already contains many interesting and wonderful artefacts that allow us to understand our rich piping heritage."