Weather hits search for Noah's Ark man Donald Mackenzie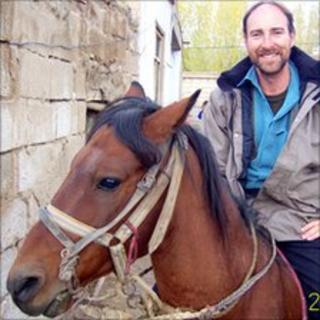 Bad weather has hampered efforts in the search for a Scotsman who failed to return from an expedition on Mount Ararat in Turkey.
Donald Mackenzie, 47, was reported missing by a friend on 14 October.
He has been involved in efforts to find the site of Noah's Ark. The Bible identifies the mountains of Ararat as its resting place after the flood.
His brother Derick said it was unclear when the weather would improve enough to allow teams to begin the search.
Mr Mackenzie, from Lewis, had previously been to the area and had returned this year after a Chinese group claimed to have found the remains of the ark.
Turkish rescue team AKUT have been preparing a search of Mount Ararat for Mr Mackenzie.
Derick Mackenzie, who lives in Edinburgh, said his family remained hopeful that he could still be alive.
He said: "Our best hope is that he's been abducted.
"There seems to be four options - one being the obvious and possible scenario of an accident on the mountain.
"The other is a robbery, another an attack with a religious motive and the other that he was abducted with possibility of a ransom.
"But the ransom option is becoming a distant possibility because we haven't heard anything of a demand."
Mr Mackenzie said his brother was always confident that he could work around and talk his way out of dangerous situations.
He said: "Donald doesn't do fear.
"Fear isn't something that looms largely in Donald's psyche. He does things without worrying about it."
Mr Mackenzie said the past few weeks had been hard to cope with for him and his mother Margaret.
He said: "Not knowing makes it very difficult because it makes you swing from one idea to another - you think he may have been abducted, next that he was robbed.
"You do find yourself going from one to another, they just drift in and you deal with it more successfully at some times than others."
The family plan to launch a fund to help cover the costs of further investigations into Mr Mackenzie's disappearance.
Derick Mackenzie has also been updating a blog on the efforts to trace his brother.