Hugh Grant backs Highlanders Museum appeal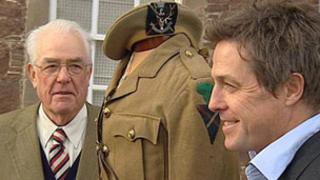 Actor Hugh Grant has launched a public appeal to help raise £3m to redevelop a museum at an artillery fort where his grandfather was a senior officer.
So far £200,000 has been donated towards upgrading the Highlanders Museum at Fort George, near Inverness.
Grant's grandfather Col James Murray Grant, from Inverness, received the Distinguished Service Order for bravery during World War II.
The Seaforth Highlander was depot commander at Fort George after the war.
Grant's father Capt James Murray Grant also served with a Highlands regiment.
The museum is dedicated to the Seaforth Highlanders, Queen's Own Cameron Highlanders and Queen's Own Highlanders.
It includes a display cabinet dedicated to the Grants.
Col Grant received the DSO for bravery and leadership at St Valery.
The French town was where thousands of soldiers of the 51st Highland Division were captured by German troops on 12 June 1940.
The actor said he was fascinated with the stories of soldiering told by his father and grandfather.
Grant said the museum's collection should be celebrated and enjoyed.
He added: "What is great about these plans is that this will not only be a very accessible new museum that children will enjoy, but it will also be a centre for learning for people who are writing military history."
The actor is best known for his role in the film Four Weddings and a Funeral and also starred in Notting Hill, Bridget Jones Diary and Miss Congeniality.