Roar and peace for Highland park's polar bears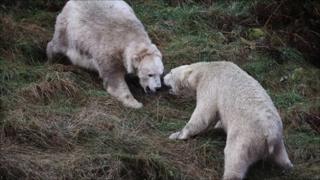 "I wouldn't say they have got on like a house on fire," said David Barclay of the Highland Wildlife Park's two polar bears.
The senior keeper of carnivores, primates and birds added: "There was a bit of hostility from Mercedes but we knew that was going to happen given she's been on her own for about 15 years.
"For Mercedes it was going to be a bit of shock."
Mercedes, an aged female brought to the park at Kincraig from Edinburgh Zoo in 2009, was joined in her enclosure by young male Walker in November this year.
For a short while it was less than a walk in the park for the newcomer from Holland's Rhenen Zoo.
First, Mercedes stamped her authority in a series of open-mouthed charges and hurling her 291kg (45 stone) frame through undergrowth in hot pursuit of the smaller, lighter Walker.
Next the boy bear had to be sedated and treated by a vet for a wound under his tongue, possibly caused by a splinter from a piece of wood he had been chewing on.
A few days later, on my visit to the park, Walker looked to be in rude health and appeared to have settled at least some of his differences with Mercedes.
She was stretched out to her full length along a fence of the enclosure, occasionally throwing Walker a dirty look.
Keeping his distance, Walker made his way to the enclosure's pond, jumped in and rolled onto his back.
Mr Barclay said: "Walker has been very well behaved.
"He has been approaching Mercedes in all the right ways, starting by being submissive to her, but now he realises that she isn't that aggressive.
"He is being bolder and standing up to her more and she has been letting him get closer to her without her being too aggressive."
When he first arrived at the park, Walker was kept separate from Mercedes.
He rolled around in earth so much that only the fur around his eyes and nose was still white.
The combination of filth and his natural colouring gave him an almost blue tinge.
Park staff have been amused by his youthful enthusiasm for sliding down the enclosure's hillside and diving into the pond.
Once he reaches sexual maturity, Walker will be a key part of efforts to breed polar bears at the park.
Mercedes, however, does not figure in the project.
Mr Barclay said: "Bringing Walker to the Highland Wildlife Park is a bold statement.
"It shows that we are being looked at in an international light.
"When Walker was listed as requiring to be moved from his zoo in Holland we were at the top of the list."
The Highlands are now home to the only polar bears in the UK.
In a historical link, the region produced what are believed to be the only polar bear to have been found in Britain.
A skull was discovered in 1927 in the Bone Caves at Inchnadamph, in Sutherland.
It was thought the bear had died and was washed into the caves almost 20,000 years ago.
Today's bears have access to one of the best enclosures in Europe, according to the Highland Wildlife Park.
The use of deer fencing to keep them in was borrowed from an idea for their use in Manitoba, Canada, where it is used to keep polar bears out of a game farm.
Una Richardson, head keeper at the Highland park, said: "We are looking at quite a new way of managing the bears.
"The breeding project is still at the embryonic stage as Walker is still two or three years away from sexual maturity and we would not put him in with a female to mate with until he had reached that stage.
"To find a female, the park would use the European stud book, but would also look at other options such as bears in potentially hazardous situations in the wild, or a young female in a zoo where the conditions are not as good as they could be."
Walker and his mate would share the same enclosure to breed and then be separated.
Ms Richardson said: "The breeding programme would be part of the conservation toolkit.
"With melting ice caps and human settlements encroaching on polar bear territories, the species' populations are under threat."
Walker, of course, is oblivious to the future role being lined him for him.
For the time being he is giving the female of the species a wide berth.