Institute's new research to aid marine energy sector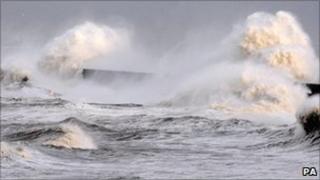 New research backed with £4m in grant support will help the marine energy industry to develop, the organisation leading the studies has said.
The Environmental Research Institute (ERI) has launched its Marine Renewable Energy and the Environment programme ahead of a major energy conference.
Stuart Gibb, of Thurso-based ERI, said the Highlands and Islands were well placed to harness wave and tidal power.
Scottish Renewables' conference starts on Wednesday in Inverness.
As well as the Marine Renewable Energy and the Environment programme (MaREE), the institute will also open its new Centre for Energy and the Environment (CfEE) later this month.
The ERI started 10 years ago in a renovated former school building with just a couple of staff.
Its first research grant amounted to £2,000.
'Immensely exciting'
Prof Gibb said that with help from agencies and its partners in the prospective University of the Highlands and Islands (UHI), the institute had grown and now employed 40 staff and students.
He added: "MaREE is an immensely exciting project for us and one we hope will have a transformational impact on the UHI and on the Highlands and Islands as a whole.
"Through extensive partnership and collaboration the programme will contribute to the high-quality environmental research urgently required to ensure that the marine renewable sector can develop in a robust and sustainable manner.
"It is my view that, in these challenging economic times, investment in the MaREE programme clearly demonstrates a concerted and coherent aspiration boosting the 'green economy' in the Highlands and Islands."
Scotland's largest conference on renewable marine energy is to be held on Wednesday and Thursday.
It will look at the industry's challenges over the next 30 years.
Trade association Scottish Renewables has organised the event with support from Highlands and Islands Enterprise (HIE).
Developers will be among the exhibitors during the conference at the Drumossie Hotel in Inverness.