Upgrades to ambulance sites in Inverness completed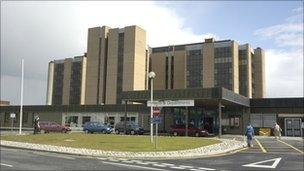 An upgrade of an ambulance station and its emergency medical dispatch centre (EMDC) in Inverness has been completed at a cost of almost £1m.
The Scottish Ambulance Service (SAS) spent £541,000 improving the station at Raigmore hospital.
A further £448,000 was spent on refurbishing the EMDC where 54 staff handle 999 calls.
The centre now has upgraded meeting and training rooms, kitchen and a quiet area for workers.
The EMDC staff share the site, also at Raigmore, with NHS 24 and NHS Highland out-of-hours service staff.
Improvements to the ambulance station include new changing room and dining facilities and enhanced infection control measures throughout the operational areas of the building.
Twenty six emergency staff are based at the station along with 14 members of the Patient Transport Service.
Pauline Howie, SAS chief executive, said it was essential employees worked in buildings fit for purpose.
She added: "The refurbished EMDC and ambulance station in Inverness provide modern workplace environment for staff who are using the latest technology and have been specifically designed to meet their needs."
Ambulance crews in Inverness responded to 8,137 emergencies last year in an average time of 7.47 minutes, the SAS said.
Of those emergencies, 2,998 were life threatening and attended within an average response time of 6.54 minutes.
The Inverness EMDC dispatched emergency ambulance crews to 96,595 emergency incidents last year in response to calls from the public, clinicians and other agencies.
Related Internet Links
The BBC is not responsible for the content of external sites.