Blood-obsessed rapist's sentence deferred over appeal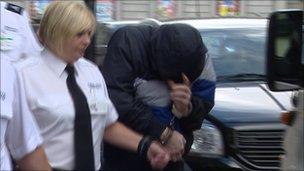 A man convicted of two rapes and five sexual assaults against three teenage girls has had his sentence deferred.
Hector MacLennan, 30, from Munlochy in Ross-shire, was found guilty of a string of attacks in Inverness over a nine-year period.
The jury heard he also slashed two of his victims with scissors because of a fascination with seeing people bleed.
Judge Lord Woolman is awaiting the result of an appeal in another case before deciding how long he must serve.
MacLennan attacked the teenagers at various houses in Inverness between May 2000 and August last year.
He was also found guilty of downloading images of child abuse.
After the jury's guilty verdicts, Lord Woolman ordered experts to examine MacLennan to determine the risk he posed to the public.
Such a background report paves the way for a sentence known as an order for lifelong restriction order.
But the judge would also have to fix the minimum time which MacLennan must serve before he could apply for release, and the method used by judges to calculate this is currently under review.
MacLennan appeared briefly at the High Court in Edinburgh expecting to be sentenced - but the judge fixed another court date for 21 December.
Related Internet Links
The BBC is not responsible for the content of external sites.