Noah's Ark site search man goes missing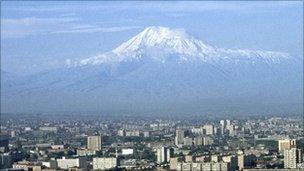 A man searching for the location of Noah's Ark on Mount Ararat in eastern Turkey has been reported missing.
Donald Mackenzie, from Stornoway on Lewis, was last in touch with his family on 30 September.
Mr Mackenzie, who is in his 40s, was part of a Christian group looking for the site referred to in the biblical story.
A friend raised the alarm after he failed to return as expected from a solo expedition on the mountain.
The Foreign and Commonwealth Office confirmed that Mr Mackenzie had been reported missing.
A spokesman said: "The local authorities are investigating the reports.
"Staff are in touch with the family and providing consular assistance."
Noah's Ark features in the traditions of a number of religions including Judaism, Christianity and Islam.
According to the Book of Genesis, it was built at God's command to save Noah, his family, and the world's animals from a great flood.
The ark is said to have come to rest on Mount Ararat after the deluge.
Explorers have previously hunted for remains of the craft on the 5,346m (17,820ft) peak. An American-Turkish team searched in 2004.
In 1957 Turkish air force pilots spotted a boat-shaped formation on the mountain.
Related Internet Links
The BBC is not responsible for the content of external sites.