Call for debate on scrap-threat coastguard tug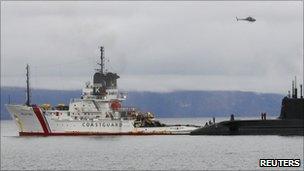 The future of an emergency tug that caused damage to a grounded submarine should be debated at Westminster, the MP for the Western Isles has said.
Nationalist Angus MacNeil said withdrawing the tug as part of the UK spending review would be irresponsible.
The Anglian Prince had gone to the aid of HMS Astute, which grounded near the Skye bridge, last Friday.
During an operation to free the submarine, the ship caused damage to the Astute's starboard foreplane.
The Anglian Prince is one of four tugs chartered by the Maritime and Coastguard Agency to be taken out of service next year.
Their withdrawal would save £32m over four-and-a-half years.
The UK government said it should be the responsibility of companies and their insurers for the salvage and clean up of stricken vessels.
Mr MacNeil called for a parliamentary debate during business questions in the House of Commons.
He said: "The Anglian Prince provides a lifeline service, and cutting this would be totally irresponsible."
The MP added: "It is only when a major event happens, such as the grounding of HMS Astute, that the value of the stand-by tug is realised. Huge oil tankers pass east and west of the Hebrides daily, and every few years a nuclear submarine seems to go aground - we can't afford to lose the tug."
On Monday, the Anglian Prince went to the aid of a cargo ship in difficulty off Rum.
Since the announcement of the spending review another of the four tugs has also seen action.
The Anglian Princess took a stricken fish factory ship, the Athena, under tow off Falmouth.
Along with the Anglian Sovereign and Anglian Monarch, the tugs are used in pollution control and towing vessels that are in difficulty.
Liberal Democrat MP Charlie Kennedy and MSP John Farquhar Munro have previously called for the ships to be retained.
Related Internet Links
The BBC is not responsible for the content of external sites.