Freight returns to the Caledonian canal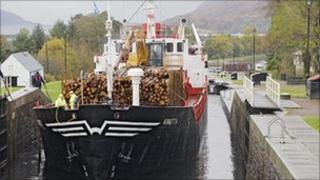 A shipment of timber has been taken through the Caledonian canal in a new scheme to revive commercial traffic on the Highland waterway.
The Scottish government is helping to fund the £255,000 freight initiative in a bid to take lorries off Scotland's roads and reduce carbon emissions.
The Caledonian canal, which opened in 1822, runs from Corpach near Fort William to Inverness.
It is anticipated that a return journey would be in the region of 4 days.
Announcing the successful maiden voyage by the MV Kanutta, Transport minister Stewart Stevenson said: "This is an exciting development for the Scottish freight industry and our canal network.
"Not only will this route further open up Scotland for business, it will also support our aim to reduce greenhouse gas emissions by taking lorries off our roads, and helping to clear congestion on the vital A82 route.
"The Scottish government is working closely with British Waterways and Highland and Islands Enterprise to enable our canals to become an environmentally friendly and sustainable alternative transport method."
Fergus Watson, business development manager for Highlands and Islands Enterprise, said:"This is an exciting time for the area, with the Caledonian Canal brought back into use for freight and the massive benefits that will result in taking haulage off the local roads."
Russell Thomson, Highlands waterway manager at British Waterways Scotland, said: "Alongside partners, we have long held aspirations to see freight return to the Caledonian Canal so we are delighted that this has moved a step nearer with the six-month freight trial."