New conservation areas for Western Isles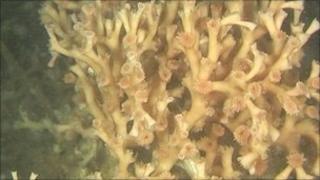 Plans to make East Mingulay in the Western Isles an Special Area of Conservation have been approved by the Scottish government.
Ministers said the move would help protect a rare coral reef.
The government has also announced that a Seal Conservation Area will be created across the whole of the Western Isles.
The existing protection measures for Orkney, Shetland, the Moray Firth, and Firth of Tay are also to be continued.
Environment Minister Roseanna Cunningham said she had approved the proposals for East Mingulay, which will now be consulted on by Scottish Natural Heritage.
"This will help protect the rare cold water corals as well safeguarding many other species," she said.
Ms Cunningham said there had been a "very worrying" decline in common seal numbers in recent years.
"That's why we have taken action, using the provisions under the new Marine Scotland Act, to create Seal Conservation Areas," she added.
"Using these provisions to cover the whole of the Western Isles will bring new protection for these seals."
Common seals
East Mingulay is the only known location inside UK territorial waters to feature the cold water coral Lophelia Pertusa.
Scientific studies have identified at least 400 species living within the reef complex.
The coral is also found at Darwin Mounds, to the north west of Scotland.
A report from the government's special committee on seals in 2009 identified a gradual decline of 35% between 1996 and 2008 in the population of common seals in the Western Isles.
The report also indicated that annual counts of common seals in the Outer Hebrides have fallen at an average annual rate of approximately 3% over that period.