Scotland 'key' to protecting UK's most threatened birds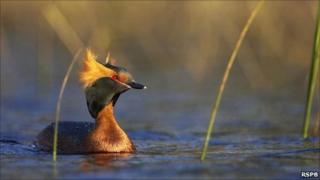 Protecting habitats in Scotland is "critically important" to conserving the UK's most threatened bird species, the RSPB has said.
The charity said that of 40 species it had prioritised for urgent conservation action, 31 had a major part of their distribution north of the border.
Birds at risk include the Slavonian grebe, which breed in the Highlands, and also the corncrake and red kite.
The RSPB hopes to get more help from government and landowners.
Stuart Housden, director of RSPB Scotland, said by working in partnership with government, farmers and the public it had achieved some successes.
He added: "However, times change and our wild birds now face some very serious challenges from climate change, to changes to the way we farm and the fragmentation of habitats from development.
"Today we call on all those with the capacity to drive positive change and contribute to our collective future to join us in saving these attractive species.
"Scottish wildlife enriches lives and defines our identity - only together can we secure this heritage for future generations."