Bolton couple to be married in cave on Rona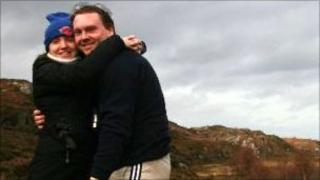 A couple are to be wed in what is believed to be the first marriage in a cave on the remote isle of Rona.
Andy Taylor and Jaclyn Harbot, from Westhoughton, near Bolton, will tie the knot in Church Cave where the islands' former inhabitants met to worship.
Rona lies off the tip of Raasay between Skye and the Scottish mainland and has a population of just two.
Minister Donald MacDonald will travel to the island by boat from Skye on 4 October to perform the ceremony.
The couple fell in love with Church Cave on a holiday to Rona in November last year.
Julia Mackenzie, who is in her late 80s and regularly visited Rona with her postman father during his deliveries to its lighthouse, said she has never heard of a wedding being held in the cave.
Rona's population peaked at about 240 people in the 1880s and the last family left in the 1940s.
One of the isle's two present day residents is Bill Cowie who manages three holiday cottages.
Dorte Jensen, whose Jensen Foundation funds ecology projects around the world, bought Rona from the UK government in 1993 for about £250,000.