Sex offender groomed young girl in Inverness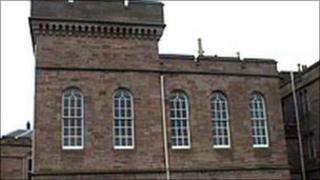 A man who groomed a girl for two years while the subject of an order banning him from having contact with under 16s has been jailed for 27 months.
Inverness Sheriff Court heard Ernest Dorans, 56, was being monitored by police at the time.
Dorans, of Inverness, admitted repeatedly approaching children under the age of six in the city and in Ross-shire.
Sheriff Ian Abercrombie said Dorans "fragrantly breached" his court order.
Northern Constabulary said the sex offender was monitored in line with national guidelines.
Dorans' convictions date back to 1975 when he was jailed for four years for assault with intent to ravish.
Public toilets
Five years later he was given 18 months for an indecent assault and a further 18 months in 1994 for two charges of abduction.
In 1997, he indecently assaulted a six-year-old girl in public toilets in Caithness and was jailed for six years.
All the convictions related to young children.
The court heard Dorans was living in Hilton, Inverness, until his arrest in June this year when information came to the attention of police monitoring him.
Depute fiscal Ron Phillips described the breach as "concerning" and said Dorans displayed typical grooming behaviour, buying the young girl sweets, taking her on trips and spending time alone with her in her bedroom.
During the course of police inquiries, officers also discovered Dorans had been in the company of three children at an address in Ross-shire on up to five occasions.
Mr Phillips said: "It is the considered view of those specialist officers responsible for the monitoring of registered sex offenders that the accused's behaviour is typical of grooming behaviour, and therefore a matter of great public concern.
"One has to ask why on earth does the accused engage in such a course of behaviour when he knows full-well that a primary condition of his sexual offences order is to prohibit that contact with juveniles."
'Correct balance'
Dorans pleaded guilty to breaching, without reasonable excuse, his order by repeatedly approaching, speaking with and community directly with a child, now aged five, between June 2008 and June 2010, at addresses in Inverness and elsewhere in Scotland.
He also admitted repeatedly approaching three children under the age of six between March and June this year at an address in Ross-shire and communicating directly with one of them.
Northern Constabulary welcomed the sentence.
A spokeswoman said: "Police, the local council and their partnership agencies work closely together to manage sex offenders living in our communities.
"We are aware of the public concern and anxiety which exists regarding these matters.
"The inter-agency approach aims to ensure the most effective monitoring and that the correct balance is achieved between the rights of individuals to privacy and rehabilitation and the rights of children and vulnerable adults to be protected from abuse."