Rare sighting of egret near Inverness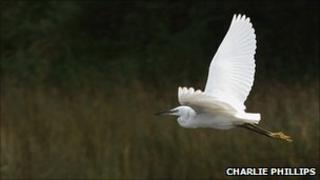 A rare sighting of a little egret has been made at Inverness' Merkinch local nature reserve.
The white heron was photographed by Charlie Phillips, a Whale and Dolphin Conservation Society field officer.
Little egret first appeared in the UK in significant numbers in 1989 from colonies expanding from France and first bred in Dorset in 1996.
RSPB Scotland said only one or two sightings of the bird were made in the Highlands each year.
A spokesman said: "They may become a more familiar sight in the future if they continue to spread."