Canna islanders appeal for new family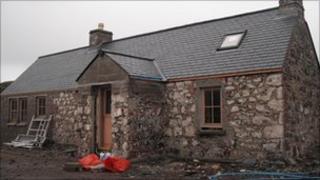 Inhabitants of a tiny Hebridean island have mounted an appeal for a new family to move to their community.
The people of Canna are advertising for a family to move into a three-bedroom cottage, known as MacIssacs, which is currently being restored.
However, anyone who takes up the invitation will have to be either employed or self employed.
Canna, which currently has a population of just 21, is owned by the National Trust for Scotland.
Although the electricity supply on the island is switched off between midnight and 0600, and there is no mobile phone reception, Canna does have broadband.
There is also no doctor, shop or police officer on Canna - which is just four and a half miles long and one mile wide - although ferries visit regularly.
Deb Baker, secretary of the Canna's community association, said: "In recent years, a number of people have moved to the island to fill specific roles, however, the family we're looking for would need to bring the work with them or create a role for themselves or bring the work with them.
"The island has broadband, so remote working might be an option, alternatively the opportunity may appeal to someone in the arts, crafts, tourism or fishing industries."
Ms Baker said the community was especially keen to attract a family with young children to boost the island's primary school, which only has four pupils.
Anyone applying for residency on Canna will be screened by the community to see if they are suitable for island life.
"Living in such a remote location isn't for everyone," said Stewart Connor, who moved to Canna in August to manage the island for the National Trust for Scotland.
"It is vital we find people who are prepared to throw themselves into community life, are resilient, resourceful, self-reliant and have a positive, solutions-focused mindset."
For further details e-mail Ms Baker at debbaker21@yahoo.co.uk.