Liberal Democrat MEP challenges SNP's ferry fares move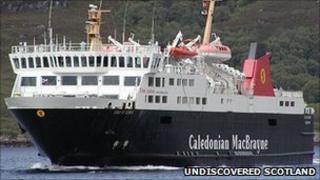 An MEP has asked the European Commission to investigate the Scottish government's decision to extend a discount ferry fares scheme pilot.
The SNP government has extended the three-year road equivalent tariff (RET) for a further year.
It applies to routes to the Western Isles, Tiree and Coll.
Liberal Democrat George Lyon, who lost the Argyll seat in Holyrood to the SNP in 2007, described the move as an "electoral bribe".
He said it discriminated against other islands and has asked the commission to investigate whether the Scottish government's decision breaks European law.
SNP MEP Alyn Smith said the year's extension was to cover the period when Scottish ministers will evaluate whether the trial has worked.
He said talk of a legal challenge was nonsense.
Last month, Liberal Democrats accused the SNP of favouritism and ignoring the needs of the Northern Isles.