Call for tax on renewable energy schemes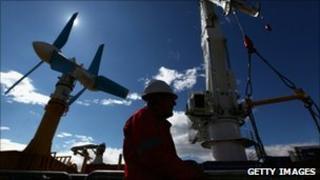 A tax on "green" energy projects could provide funding for the prospective University of the Highlands and Islands (UHI), its principal has said.
James Fraser has called on the Scottish and UK governments to put a levy on onshore and offshore schemes.
He said communities, UHI and other organisations in the Highlands and Islands could benefit from the money raised.
Mr Fraser said: "This would be a fund for wider regional good."
He said investing in higher education would ease pressure on public sector funds.
The principal said: "We face enormously challenging times ahead as we seek to continue to provide the breadth and depth and quality of curriculum in the face of unprecedented cuts in public funding.
"It is of vital importance that we do not reduce the range of our programmes or damage the quality of our research.
"We have to strive hard to be more efficient - not an easy task for organisations that have being doing so now for some years - and also to identify new sources of income."
An application seeking university status for UHI, a higher education institution, is due to be considered by Scottish ministers in December.