Digs reveal 'archaeologically sterile' Tesco store site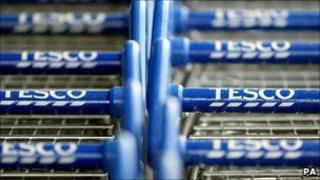 Archaeologists have revealed their opinions on the historical significance of two sites earmarked for supermarket developments by rival retail chains.
BBC Scotland's news website reported on Wednesday how Asda's proposed location at Slackbuie, Inverness, was a Bronze Age burial site.
But experts have now said that Tesco's site in the city's Ness-side could be potentially "archaeologically sterile".
Thousands of finds were made at Slackbuie, but little at Ness-side.
AOC Archaeology Group's evaluation of the Tesco site has been published on Highland Council's Historic Environment Record website.
The report concluded that the area "has no or very limited archaeological potential".
A Bronze Age burial site was uncovered at the planned location of Asda's first supermarket in the Highlands.
Archaeologists found an area of cremation pits surrounded by a ring ditch.
Almost 2,000 flints were also recovered from the field.
Pieces of Neolithic pottery known as Unstan Ware were also discovered during digs led by Edinburgh-based NG Archaeology Services.