Highland switch-off for street lighting proposed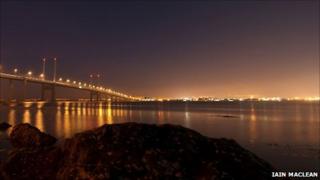 Communities across the Highlands could be asked to try out new ways of saving the energy used to power street lighting.
Highland Council has suggested dimming lights, turning off every second street lamp or switching off all lights between midnight and 0600 BST.
Areas are to be sought where the various options can be tested safely.
Highland operates about 48,000 lamps, which generate an annual electricity bill of more than £1.7m for the region.
The local authority has also proposed making it a requirement that only new developments with more than 15 properties have street lighting.
Road accidents
Energy saving ideas were put to the public during the council's budget consultation exercise earlier this year.
Most people who took part said they would prefer every second light switched off, rather than dimming down the lights or turning them off completely at certain times.
Tests will be done in consultation with the police.
In a report, council officers said there were potential risks to turning off lights.
They included power companies raising the price charged for electricity as a reaction to a major reduction in usage.
A rise in road accidents, a fear of crime and personal injury claims that blame street lighting as a cause were other possible risks listed.
The proposals will be discussed at the council's transport, environment and community services meeting next week.