'Houses for heroes' plan for Inverness rejected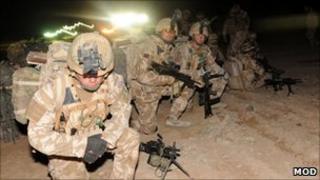 A proposal to build eight affordable homes for military personnel on land allocated for community use has been rejected by Highland councillors.
Construction company Tulloch Homes had proposed building the properties for charity Homes for Heroes on a site in the Milton of Leys housing development.
Councillors instead voted 10 to four in favour of the land being developed as a district centre, as designated.
It would include play areas for children, which the area lacks.
Homes for Heroes was set up to help service personnel find accommodation.
Milton of Leys is one of the largest suburbs of Inverness.
Inverness South Community Councillor Liz Gilchrist said another part of the development could be zoned for housing.
She said: "There is a desperate need for houses of heroes - I wouldn't argue with that for one second.
"But there are areas in Milton of Leys which would be prefect for that purpose."
The proposals were considered by Inverness, Nairn, Badenoch and Strathspey planning applications committee.